Social responsibility is a cause close to our hearts. With our child sponsorships, blood donor campaigns organized by our employees, and through donations in kind, we are constantly trying to make a contribution to society.
Last year, we received a call from Dr. Stefan Pappert, a German ENT doctor, telling us about a training project in Rwanda that he wanted to support. A few years ago, the president of the Professional Association of ENT doctors, Dr. Dirk Heinrich, initiated a project in the capital of Rwanda to train doctors to be ENT specialists. Dr. Pappert and two of his ENT colleagues were now pla nning to travel to Rwanda to help educate these doctors.
Dr. Pappert has been an enthusiastic and staunch user of our radiofrequency units for more than 13 years. He is able to look back on more than 1000 successful surgeries of the turbinates and tonsils. For almost 20 years, he has been supporting the charity work of Interplast-Germany and performing plastic surgeries in Peru.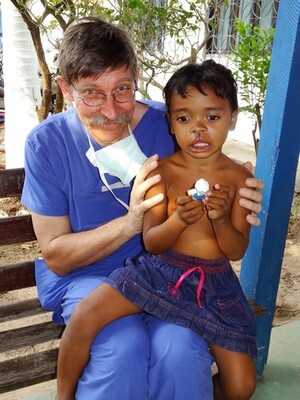 Dr. Pappert with one of his little patients in Peru
Now it was his wish to introduce the doctors in Kigali to radiofrequency surgery and establish this surgical method in the framework of the project. The main indications were hyperplasia of the turbinates and the tonsils in children. For this purpose, we donated one of our BM-780 II radiofrequency generators as well as some bipolar electrodes.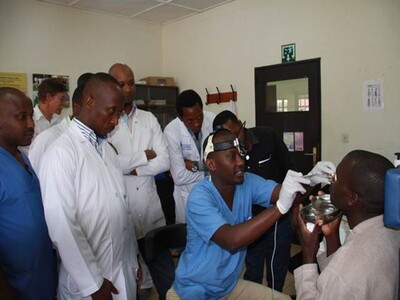 The doctors in Kigali and the leader of the ENT department were keen on learning about radiofrequency surgery while Dr. Pappert was very happy to promote the development of ENT surgery in Kigali. This project convinced him to keep up the support of the education of ENT doctors in Rwanda. And we at Sutter are pleased to be able to make our contribution to this important project.